Explain how women's roles and status changed and stayed the same in the 20th and 21st century
In the twentieth century, women's roles and status changed significantly. Women gained the right to vote in many countries. Women also entered the workforce in large numbers during World War II, leading to a significant increase in women's participation in the workforce.
In the mid-to-late 1960s, second-wave feminism is a movement that began in the early 1960s and lasted until the late 1980s. It was a continuation of the earlier wave of feminism that began in the late 19th century and continued through the early 20th century.
Women believed that they deserved more rights than just enfranchisement (the right to vote). Second-wave feminism was characterized by a focus on a wide range of issues and concerns. They believed in equal pay, greater educational opportunities, and access to professional careers. They also focused on them being able to dictate control over their own bodies as well. They valued sexual liberation and reproductive rights.
This movement was largely led by educated, middle-class women, and it sought to challenge the patriarchal systems and structures that oppressed women. It also had a significant impact on politics and laws, particularly in the areas of reproductive rights, domestic violence, and workplace equality, and played a key role in the formation of feminist organizations and the development of feminist theory.
One of the most prominent of these feminists was Simone de Beauvoir. She is best known for her book "The Second Sex" which was published in 1949, in which she argues that women have been treated as the "other" throughout history and that this has led to their oppression. The book is considered a classic of feminist literature and is still widely read and discussed today.
Image Courtesy of
Wikipedia
In Eastern Europe, feminist movements were not able to organize and grow as the government controlled the media and education system, and any form of dissent was seen as a threat to the state. The state-controlled media portrayed women as equal to men in all aspects of life, which limited the ability for feminist movements to gain traction.
In countries like the Soviet Union, Czechoslovakia, and Poland, women's rights were limited by the state-controlled economy and the state-controlled media and education system. Women were expected to work and have children, and the government did not allow any sort of activism that could be perceived as a threat to the state.
New modes of marriage, partnership, motherhood, divorce, and reproduction gave women more options in their personal lives.
The efforts of feminists in Western Europe and government policy in Eastern Europe paid off. In the West, women had more control over motherhood through in-vitro fertilization (IVF) and the birth control pill.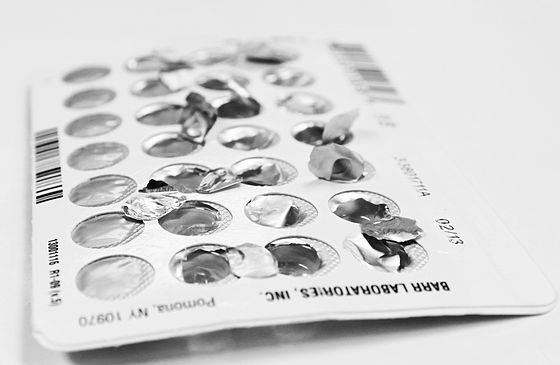 Image Courtesy of
Wikipedia
In Western Europe, the availability and usage of the birth control pill varied by country. In countries like France, the pill was widely accepted and used by women, and its widespread usage led to a decrease in maternal mortality and increased social and economic mobility for women. In the United Kingdom, the pill was initially met with resistance from the government, but eventually became widely available and used by women.
In other Western European countries like Italy, Spain, and Portugal, the Catholic Church strongly opposed the use of birth control, and the pill was not as widely accepted and used as in other countries. However, during the 70s and 80s, the availability and usage of the pill increased in those countries as well.
In general, the Communist governments in Eastern Europe officially promoted access to safe and legal abortion. However, in practice, access to abortion varied by country and was often limited by economic, cultural, and political factors.
Women attained high political office and increased their legislative representation.
To top it all off, women held offices of high political power. Margaret Thatcher became the first female prime minister in England and ushered in a new brand of conservativism. Edith Cresson became the only female French prime minister in 1991. Mary Robinson became the first president of Ireland in 1990, and served 7 years.
All of these developments were a stark departure from the years before World War 2.